U.S.A. AIKIDO ONLINE ZOOM TRAININGS
We are preparing a new series of Zoom trainings with female instructors from the United States of America! Join us by Zoom or by the Facebook live streaming during August!
Instructors that are part of this event:
Patricia Hendricks Shihan
Penny Bernath Shihan
Wee-wow Dumlao Shidoin
Laura DeGraff Shidoin
Sharon Dominguez Shidoin
Schedule soon to be published completly.
Mon / 10 August 2020 / 07.00 AM California Time Patricia Hendricks Shihan 7 Dan
Wed / 12 August 2020 / 13.00 New York Time Sharon Dominguez Shidoin 6 Dan
Sat / 22 August 2020 / 11.00 AM Florida Time Penny Bernath Shihan 6 Dan
_____________
Next training: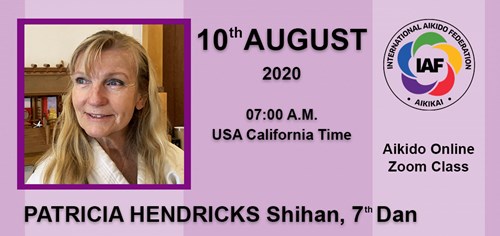 Topic: Online Training - IAF Zoom
Meeting ID: 816 6240 2640
Passcode: aikido
Direct link:
https://us02web.zoom.us/j/81662402640?pwd=WUJKdnBldHgwSUZKOE1IQThCYUVmQT09
JUNE AIKIDO ONLINE ZOOM TRAININGS
We have concluded a set of Aikido online Zoom trainings where Aikidoka from all over the world could join. Instructors from our member countries conducted these trainings, during June 2020.
Countries that were part of this event:
Argentina (Ruben Sandoval Sensei)
Australia (Tristan Derham Sensei)
Chile (Jorge Rojo Sensei)
Colombia (German Santamaria Shidoin)
Egypt (Mohamed El Sayed Sensei)
France (Fabrice Croize Sensei)
Greece (Konstantinos Matzaras Sensei)
Lithuania (Irina Kushelevich Sensei)
Mexico (Michael Moreno Shihan)
Netherlands (Satomi Ishikawa Sensei)
Norway (Bjorn Eirik Olsen Shihan)
Portugal (Joao Almeida Sensei)
Scotland (Jan Krokowski Sensei)
South Africa (Craig Borman Sensei)
Sweden (Jan Nevelius Shihan)
United States of America (Kayla Feder Sensei)
Schedule of the online trainings:
Wed / 3 June 2020 / 19.00 France time Fabrice Croize Sensei 5 Dan
Fri / 5 June 2020 / 17.00 Egypt Time Mohamed El Sayed Sensei 6 Dan
Sun / 7 June 2020 / 14.00 Norway Time Bjorn Eirik Olsen Shihan 7 Dan
Tue / 9 June 2020 / 19.00 Lithuania Time Irina Kushelevich Sensei 5 Dan
Thu / 11 June 2020 / 18.00 Portugal Time Joao Almeida Sensei 5 Dan
Sun / 14 June 2020 / 18.00 Sweden Time Jan Nevelius Shihan 7 Dan
Mon / 15 June 2020 / 20.00 Greece Time Konstantinos Matzaras Sensei 6 Dan
Thu / 18 June 2020 / 06.00 South Africa Time Craig Borman Sensei 5 Dan
Fri / 19 June 2020 / 11.00 Chile Time Jorge Rojo Shihan 7 Dan
Sun / 21 June 2020 / 11.00 Australia (Tasmania) Time Tristan Derham Sensei 4 Dan
Tue / 23 June 2020 / 19.00 UK Time Jan Krokowski Sensei 3 Dan
Fri / 26 June 2020 / 13.00 Colombia Time German Santamaria Shidoin 5 Dan
Sat / 27 June 2020 / 11.00 California Time Kayla Feder Sensei 6 Dan
Sun / 28 June 2020 / 16.30 Netherlands Time Satomi Ishikawa Sensei 5 Dan
Mon / 29 June 2020 / 17:00 Mexico Time Michael Moreno Shihan 7 Dan
Tue / 30 June 2020 / 09.00 Argentina Time Ruben Sandoval Sensei 6 Dan
____________